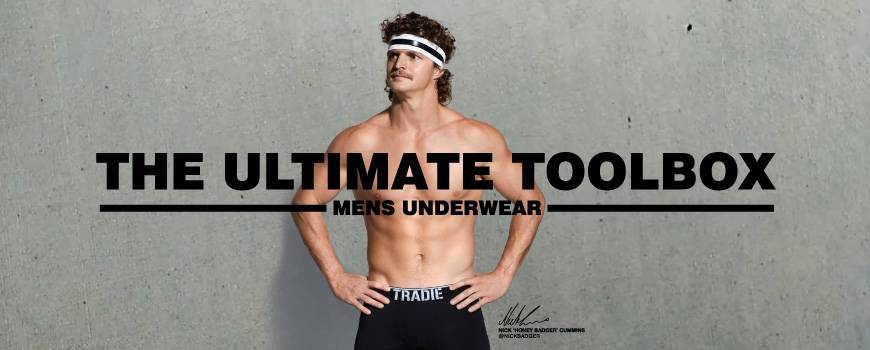 FIND LOVE IN OUR NEW TRADIE WORKWEAR GIFT PACK.

LOVE APPEARS WHEN YOU LEAST EXPECT IT.
Sometimes, that involves 20 odd roses, a national television network and countless groups of wine drinkers looking on with anticipation. For others, a humble box of craft beer and cotton underwear delivered to the front door.
Made for the rugged creators, the comfort seekers and the tireless tradesmen, our new Tradie Workwear Gift Pack offers the most essential toolbox of all industries, because dressing for success doesn't always involve a suit and tie.

If three times is the charm, this box is just the ticket. Containing three pairs of Tradie Workwear's Fitted Trunks and three Australian craft brews, prioritising practicality over pizazz means a gift that everyone can feel good about.
With a knack for excelling in durability and plenty of room to move, the Fitted Trunks, available in three colour combinations, have mastered the art of extreme comfort with a flexible cotton stretch that is second to none.
Add that to the notion of a three and a half minute ordering process, direct delivery to your loved one's doorstep in our subtle black box and beers made from only the essential ingredients for further confirmation that sometimes, it really is the simple things that make life grand.

Support them all day long.

From the work site to casual outdoor endeavours, the beer guzzling man in your life deserves to spend his day cloaked in contentment. Who else is going to re-tile the bathroom for free, after all?
Whether it's a household renovation or an average workday, nothing beats coming home, popping the top on a cold one and toasting to a job well done. There may be no guarantee that it will see your hardworking hero evolve into a shirtless, curly haired, rugby playing romantic, but we're willing to bet our last ale that it's worth a shot.
maximise workday efficiency & comfort levels.
The Tradie Workwear Gift Pack makes keeping your beer drinker supported from AM to PM easier than ever before.